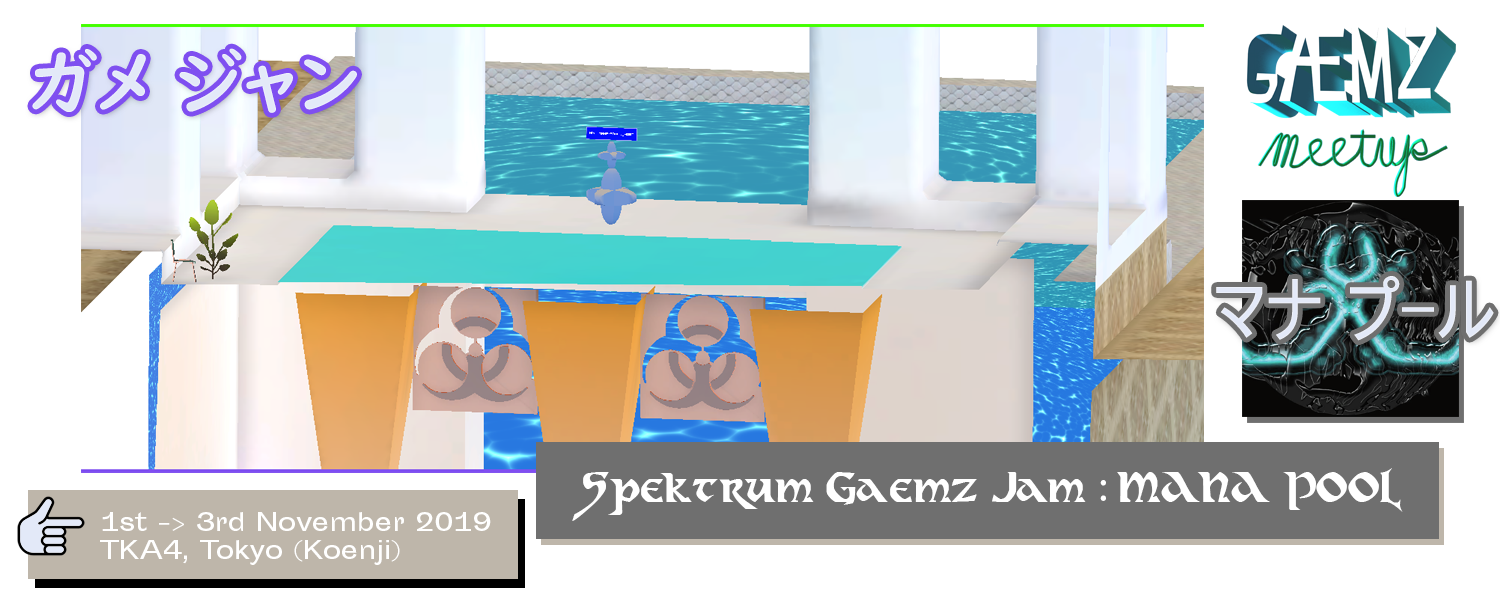 Spektrum Gaemz : IRL Jam Tickets
A downloadable Offline jam tickets

This ticket purchase gives you access to the offline Spektrum Gaemz Jam in Tokyo, from 1st to 3rd November 2019.
このチケットは東京で開催するオフラインでのシュペクトラムゲームズジャム(2019年11月1-3日)参加者用のチケットです。

✔️ The ticket gives you 24hour access to the venue during the whole jam
✔️You can sleep on-site if you are coming from afar - bring your own duvets! (and contact us ahead so we can make it all cosy)
✔️ You will find all additional information you need on the downloadable ticket after your purchase.
✔️ The total ticket availability is limited to 20 participants.
✔️ This is a non-profit event, and all proceedings from the ticket sales will allow us to pay the rent of the space.

✔️ ジャム中ずっと24時間ジャム開催地にアクセスできます。
✔️ ジャム開催地で眠ることができます。BYOD–毛布持ってきて!(寝る場合は事前に連絡して頂けると、よりよいジャム睡眠環境が整えられます)
✔️ チケットを購入してダウンロードすると、必要な情報はそこに記載されています。
✔️ チケットは全部で20枚です。見逃さないで!
✔️ これは、非利益のイベントです。チケットの売上は全て場所のレンタル代に使います。
What ? ・ なんだって?
A game jam is a hackathon where people create games!
We meet for a few days, form teams, and create a video game together.
On the last day, everybody presents their game to each other and to the public during a small party.

ゲームジャムはゲームを作る人達向けのハッカソンです!
何日かかけて、あった人々とチームを作って、一緒にゲームを作りましょう。
ジャム最終日には、皆が作ったゲームを発表します。
When? ・ いつだって?
1st to 3rd November 2019.
2019年11月1-3日(金、土、日/翌日月曜日は祝日)
Facebook event page
Friday 1st , evening : Personal introductions, team-forming and brainstorming.
Saturday 2nd / Sunday 3rd : Jamming!
Sunday evening : Jam results showcase and hangout, bring your friends!
Facebook event
---------
1日(金)夕方:自己紹介、チームつくり、ブレインストーミング。
2日(土:ジャム!
3日(日):ジャム!そして夕方からプレゼンテーションとショーケース。友達を呼んで遊ぼう!
Facebook event
Who can participate? ・ だれがさんかできるんだって?
Anybody willing to to make a video game!
Programmers, visual artists, animators, musicians, 3D modellers, game designers, writers : everybody is welcome to jam.
You need to be able to be in Tokyo (Japan) for the event (if not, you can also join the online jam for free!)
ゲームが作りたい人誰でも!
プログラマー、ヴィジュアルアーティスト、アニメーター、音楽家、3Dモデラー、ゲームデザイナー、物書き、ジャムには誰でも参加できます。
ただし、オンサイトオフラインのジャムに参加するには、ジャムの間に東京(日本)にいないとだめです。(そうでなかったらオンラインのジャムになら無料で参加できますよ!)
Where? ・どこだって?
TKA4 Koenji - Google maps link

TKA4 is a community-run event space in Koenji, Tokyo.
The space hosts concerts, events, workshops, and also serves as a shared workspace for artists and crafts workers.
For the duration of the jam, the venue will be exclusively accessible to jam paticipants, 24hours round.
TKA4はコミュニティーで経営されている高円寺にあるイベントスペース。
この場所は、コンサート、イベント、ワークショップなどをホストしたことがあり、またアーティストやクラフトワーカーの作業場としても活用されています。
ゲームジャムの期間内は、24時間中ジャム参加者特別に提供されます。

About the organisers ・ 主催者について :
🌐 GÆMZ MEETUP 🌐
Gæmz Meetup is an event group founded by Nomi. The regular meet-up is held at Pico Pico Cafe, Tokyo on Friday evenings almost every month. The event focuses on experimental games, art games and playful media.
Gæmzは東京にあるPico Pico Cafeにて定期的に開催されているイベントです。 イベントは実験的なゲーム、アートゲーム、そして遊び心のあるメディアのクリエイターなどのためのコミュニティイベントです。

✔️ GAEMZ WEBPAGE ✔️ DISCORD SERVER ✔️ SOCIAL MEDIA : TWITTER | FACEBOOK
🌐 SPEKTRUM CRUSH ZINE 🌐
Spektrum Crush zine is a printed zine dedicated to games and digital garbage.
Spektrum Crush Zineはゲームとデジタルゴミのためのジーンです。
✔️ SPEKTRUM CRUSH WEBPAGE ✔️ DISCORD SERVER
✔️ SOCIAL MEDIA : TWITTER| FACEBOOK | INSTAGRAM
💌 Contact us :
✔️ Nomi [JP, EN] - the_nomi@jizai.org - @the_nomi
✔️Gaemz [JP, EN] - gaemzmu@gmail.com - @gaemzmu
✔️ alpha_rats [EN] - contact@alpharats.com- @alpha_rats
✔️ rekcahdam [EN] - @rekcahdam
✔️Discord server
Download
Download
SpektrumGaemz-ManaPoolTicket.pdf
2 MB